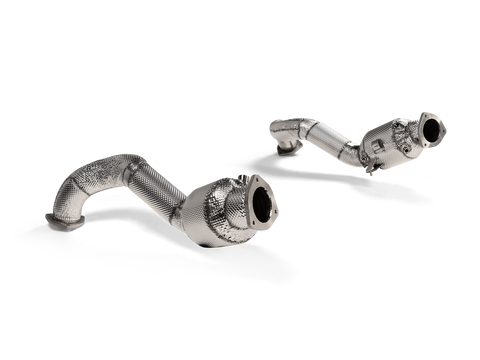 Akrapovič 718 GT4 RS Titanium Link Pipe Set
Fabricated using high-grade titanium and insulated with stainless steel, the front part is cast in Akrapovič's in-house foundry and shaped to provide correct clearance of the stock shocks. The sport 200 cpsi catalytic converters are integrated and have extra insulation for heat protection. For non-OPF cars, a new plug is included to disable the EGT sensor. It weighs in at 38.9% less than the stock system.
When installed with their titanium slip-on race line (required), power is increased by 26.5 hp at 4,950 rpm and torque increases of 38.1 Nm at 4,900 rpm have been recorded on the Akrapovič dyno when tested against a Porsche 718 Cayman GT4 RS with a standard stock exhaust.
Due to more direct gas flow, the sound has a true racing quality with high-frequency tones. This track-oriented part has been developed for use on closed-course competition circuits only and when installed, remapping is mandatory.

THIS PRODUCT DOES NOT MEET EMISSION COMPLIANCE REQUIREMENTS FOR STREET OR HIGHWAY USE.