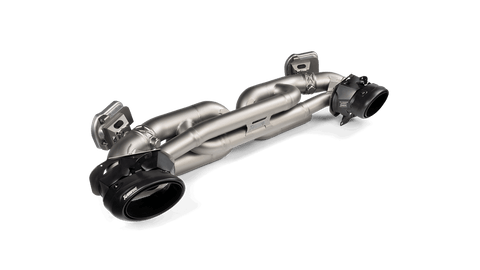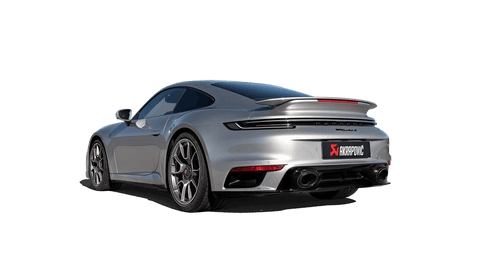 Akrapovič 992 Turbo / S Slip-On Race Line Titanium Exhaust
This is a Special Order Product
power +16.6 kWat 3400 rpm
torque +46.8 Nmat 3400 rpm

weight -9.0 kg
All of the knowledge and experience gained while working with various engines from the sports car manufacturer from Stuttgart was poured into this outstanding aftermarket exhaust system. Produced from lightweight titanium, the system uses complex parts meticulously crafted using the in-house titanium foundry to offer perfect acoustics. An instant deepness prevails from the moment the engine is started and as the revs rise, and so does the sensory involvement. At low rpms the exhaust emits a deep, iconic flat-six rumble, moving through a powerful mid-range, which then develops into a rich, strong, and high-frequency acoustic sensation at high revs, perfectly tuned to upshifts, providing a thrilling experience as the higher gears are selected and exhilarating, race-inspired burbles through the downshifts. This sound pattern is achieved with a carefully calculated H-link between the main pipes, which is precisely welded at a selected position. The system has been developed for use on closed-course competition circuits, but there is no compromise on comfort because the tuning of the system eliminates any drone or unwanted flow noise. Power and torque increases have been recorded at +16.6 kW (22.5 hp) and +46.8 Nm at 3,400 rpm when tested in back-to-back runs on the Akrapovič dyno against a Porsche 911 Turbo (992) using the Porsche stock sports exhaust system, with the torque curve offering a perfect response from low down engine speed. The system is not EC/ECE type approved.
NOTE: Akrapovic Tips Are Required for this system [Link]
Fitment notice: The system is designed to replace the Porsche sport exhaust system. If you would like to install the Akrapovič exhaust system on vehicles with a non-sport stock exhaust, please check the installation instructions or request more information from official Akrapovič dealers.