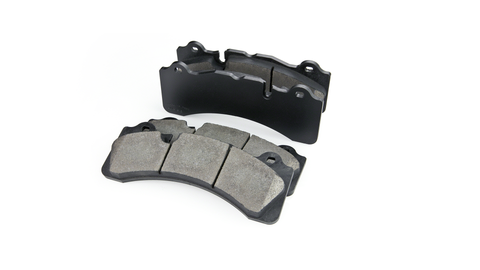 Brake Pads, Front, 991 GT3 / RS / Turbo, 981 GT4 non-PCCB
For Non-PCCB Vehicles
RT TS20:
The TS20 is the ideal dual-purpose compound for street and light track use. The TS20 combines an aggressive initial bite, good heat resistance all while keeping dust and noise to a minimum. TS20 are offered for a select range of OEM Brembo caliper shapes.
RT RA01*:
RA01 is a race compound with excellent pedal feel, stability and disc friendly even at lower running temperatures. It is a track day compound designed to operate over a wide range of environments and applications.
RT RS35*:
RS35 is a sprint race compound with a focus on good initial response and friction levels while maintaining good modulation characteristics under high temperatures. The RS35 offers lower pad wear versus competitor sprint pads and is disc friendly.
RT RE10*:
RE10 is the ultimate endurance race compound offering a balance of excellent stopping power, low thermal conductivity, extremely low pad and disc wear. Utilizing the latest friction material technology, RE10 offers consistent performance under the most demanding of environments.
*Denotes a "race only" pad.
Running a "racing use only" pad on the street could produce excessive noise and dust.

Disc wear could be accelerated if driven at cold temperatures or used in the incorrect temperature range.

Racing pads are designed to work in specific temperature ranges so it is important to choose the desired compound for the correct environment the vehicle will be used in.

Pad Compounds are run on a brake dynamometer over multiple brake applications (stops) to test the materials in a controlled environment for the most accurate data. Wear rates and temperatures can be influenced by car setup, grip levels, track layout/configuration and many other variables.
Not all compounds listed above are available for every system. Please contact us for specific recommendations for your application.
2450.18.TS20 2450.18.RA01 2450.18.RE10 2450.18.RA70