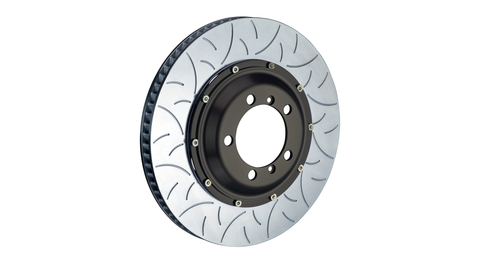 Brembo 2-Piece Rotor Set, Rear 991 GT3 / RS non-PCCB
Specs: (R) | 380x30mm (15") 2-Piece Discs | Complete Axle Set | Pre-Assembled | All Necessary Hardware Included
For Non-PCCB Vehicles
203.9003A
BENEFITS OF BREMBO 2-PIECE DISC UPGRADES:
OEM INTEGRATION: Brembo 2-piece disc upgrades are designed to work seamlessly with the OE calipers and systems (manufactured by Brembo for Porsche). This guarantees the utmost in safety and seamless fitment.

LIGHTWEIGHT: Disc assemblies include an outer iron disc with an aluminum bell/hat and provide decreased corner weights to improve vehicle dynamics including handling, acceleration, and braking.

TYPE III SLOT PATTERN: Extensively used in professional motorsports, the Type III slot pattern offers a high initial response with excellent release characteristics.

HIGH THERMAL CAPACITY: Greatly improved thermal capacity and heat management over OE discs and other aftermarket discs in the market. This also improves braking performance and allows for greater longevity of the components.

FRICTION MATERIALS: Everything we learn by supporting top professional racing teams throughout the world goes into selecting the best brake pad options for all levels of street, track and racing use.