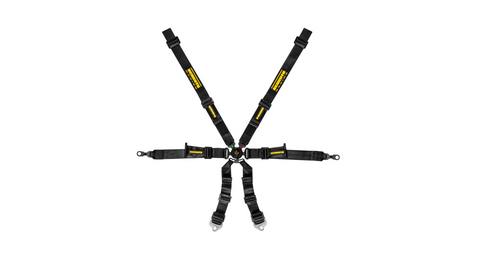 Schroth Porsche GT3 Profi 6 Point Camlock Racing Harness 2X2H, HANS
Limited Availability. Special order item and not eligible for returns or cancellation after order. Please inquire about current availability.
Porsche GT3 Cup Cars come with Schroth belts direct from the factory. If you need to replace them because of an accident, or if you're putting the factory GT3 seat setup into another car, you'll want these belts.

They are specific because of the lap belt attachment. They have a sewn-in bracket that fits perfectly on the factory mount. Standard belts require additional fabrication and a spacer to make them work. These are a bolt-in replacement which is much easier. The sub-straps have no adjusters to fit correctly in the vehicle, and the shoulder belts are shorter to reach the works cages with minimal excess.
This harness is to be used with HANS device only. Additional hardware such as sport bucket seats, harness bar, and seat base kits or sub-belt brackets are required for installation.